Owner/Chef Lin Biar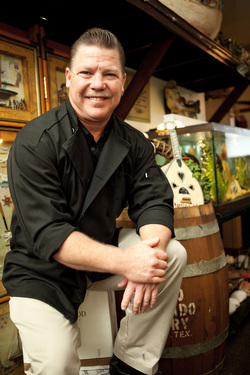 Our owner, Lin Biar, has enjoyed working in both private and corporate restaurants for over 30 years. As such he has vast knowledge in a variety of cooking styles and shows off his talents during our off-season "Dinner with the Chef" events. His experience includes owning or operating several establishments including:
The Dodge City Steak House and Longbranch Saloon - Austin, TX - Kitchen Manager at 17
Biar BQ Catering - Pflugerville, TX
The New Dodge City SteakHouse - Pflugerville,TX
Stuart Anderson's Cattle Company - Austin, TX
Pearl's Oyster Bar - Austin,TX Voted Best Cajun Restaurant 1986
No 1 Pearl Street Oyster Bar - Dallas,TX Voted Best Cajun Seafood Restaurant 1987 - 1988
Monterey's Tex Mex Cafe - Austin, Houston, TX - Bartlesville, OK - Top Ten Manager 1989 - 1991
Bluebonnet Hills Inn - Brenham/Chappell Hill, TX
The Red Snapper Inn - Surfside Beach,TX
Joining his father-in-law, Ivan Stathopoulos, in 1991, Lin has over seen the growth of the establishment from its early beginnings as a seasonal restaurant, through four expansions and five named storms, to a full-time operation boasting some of the best seafood on the Texas Gulf Coast. Lin bought out his partner, Ivan, in 2007 and continues in day to day operations of all phases of the restaurant including most of our desserts.
"We believe all guests deserve good food and service, if we drop the ball let us know right away so we can correct the problem or misorder then. In this way, you and your guests do not have to suffer through a bad experience, and we have a chance to get you something else or correct a mistake. Although it is too late to correct a problem after the fact, we invite your comments or questions to
lbiar@aol.com
. I will reply as soon as possible. Thank you for your support and we look forward to serving you!" Lin Biar
---